"Противоположностите се привличат". Съгласни ли сте с това твърдение?
Аз определено съм... е добре де, единствено, ако става въпрос за мода или модни тенденции.
А вие "за" противоположностите ли сте? Дори и да не сте от този отбор, трябва да се съгласите с мен, че що се отнася до цветове, монохромният стил е едно от най-сигурните неща, на които спокойно да заложите в моменти на колебание, защото никога няма да сбъркате.
Бяло и черно... вечната класика, която и през този сезон задържа мястото си на модния подиум. Ако все още в гардероба ви липсва монохромно съкровище, бих казала, че е крайно време да се поглезите като си подарите тази така необходима модна находка... защото го заслужавате!
Принтовете, между които можете да избирате, също не са малко- точки, райета, цветя или пък геометрични фигури. Който и да решите, шикозното излъчване е гарантирано!
И за да добавим щипка пикантност към аутфита, нека се осмелим да разходим бонбонените си обувки, които така добре ще допълнят визията ни. Кокетната панделка пък, леко надничаща изпод роклята, ще ни гарантира изпитателните погледи на минувачите, а ако сме късметлии- може би и тяхната усмивка!
"Opposites attract". Do you agree?
Well, I do... or at least if we are talking about fashion or trends.
Are you "for" opposites? Even if you are not in this team, you should agree with me that when it comes to colors one of the safest things you can bet on is t
he monochrom style,

because you can't never go wrong with it!
Black and white... timeless classic, but also one of the hottest trends this season... again!
If the monochrome treasure is still missing in your closet, be sure to get one by spoiling yourself with a little present... because you totally deserve it! I can assure you that it will be one of the best investments you've made.
There are lot of prints you can choose from- dots, stripes, flowers or
geometric shapes.
Whichever
you choose,
your chic look
is
guaranteed!
If you wanna spice up things a bit, putting your favourite shoes in a candy color is not a bad idea at all. This will complement your whole outfit nicely and the ribbon slightly peeking out of your dress will guarantee you the judging looks of the people passing you by and maybe, if you are lucky, their smile, too.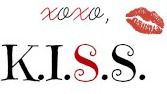 Follow my blog with Bloglovin