Christmas is coming, which means one thing: it is time for the second outfit of my Christmas series.
I have to admit that red is definitely not the most dominant colour in my closet, but every year at this time I start wearing it more often. For me it is perfect for the holidays since this is the colour associated the most with Christmas, and you can't go wrong by going for it. I don't know about you, but when I wear red, I automatically get into Christmas mood.
This is why today I decided to go for this pleated dress (which is actually a maxi skirt) in passionate red and oversized shirt (I bought it for my boyfriend, but decided to share it with you first) that serves like a vest.
So, as you can see, today's outfit is another example

of the

versatility

of the clothes, as well as the

unendless

possibilities they

offer us

.

Convince yourself
by adding more
fantasy
and
individuality
next time you pick up your outfit

!
Which colour would you choose for your Christmas outfit?
***
Коледа наближава, което значи само едно: време е за вторoто ми предложение за празничен аутфит.
Трябва да призная, че червеният цвят определено не е сред най- доминиращите в гардероба ми, но всяка година по това време желанието ми за повече аутфити в един от най-коледните нюанси неминуемо се покачва. Това според мен е най-подходящият цвят за празниците и хубавото е, че рискът да сбъркаме, избирайки тоалет в тази гама, е минимален.
Ето защо днес реших да заложа на плисирана рокля (която всъщност е макси пола) в огнено червено и сладурска оувърсайз риза, (наскоро я купих за моя приятел, но реших да я споделя с вас преди това) изпълняваща ролята на жилетка.
Представеният ауфит е поредното доказателство за мултифункционалността на дрехите и многобройните възможности, които те ни предлагат. Единственото условие за това е влагането на повече фантазия и доза индивидуалност.
А вие на кой цвят ще заложите за празника?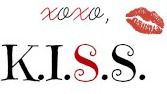 Get this look for $31+ on Lookastic: Burgundy Print Shirtdress, Red Maxi Skirt, and Black Suede Ankle Boots