Hey, guys.
I hope you are all doing fine and you had a great and relaxing weekend.
I know it's been a while since my last post, but I have some things going on right now. Don't worry, you will find more about it very soon =)
I have to admit that sometimes I feel like a need a big CHANGE so I change my hair, break my makeup routine, experiment with a different nail art... However, nothing helps me or my self-transformation any better than going for a style so far from my personality (or not?).
Actually, this was the idea behind today's '90s inspired outfit.
I have always thought that denim and leather are one of the best inseparable 'couples', especially if you think of the grunge era. And how about you?
And what do you do when you feel the need for a change?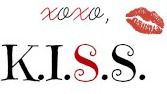 Надявам се, че сте имали хубав и релаксиращ уикенд.
Знам, че измина доста време от последния ми пост, но имам доста неща за вършене, тъй като предстоят някои важни промени (повече за това ще узнаете съвсем скоро).
В моментите, в които чувствам силната нужда от промяна, започвам да експериментирам... променям прическата си, разнообразявам своята рутина на гримиране, избирам различен маникюр. Трябва да призная, че тук най-важната по мое лично мнение съставка е влизането в друга, нетипична за нас роля и залагането на различен стил.
Именно това ме вдъхнови за създаването на днешния аутфит с леки препратки към 90-те.
Винаги съм смятала, че кожата и денимът са една от най-успешните и неразделни "двойки", особено що се отнася до гръндж епохата. А вие?
А какво правите, когато се нуждаете от промяна?